The season for wild leeks/ramps is now here. I picked a bag full of small plants last week so I could sample them. We made some nice leek-y mashed potatoes, with plenty of leftovers. The flavors got much stronger the second day, as leeks can do! They're versatile, and the whole plant can be used like onions or garlic. We'll be using them for a while, munching them on our woodland walks, and possibly drying some for the off season.
Plants are now getting to be of better size and are available by the pound to those interested. Just contact me. $10/lb. currently, but price will vary depending on the size and quality of plants at the time of order. It will fall as leeks get larger. Yes, I can do half pounds, or quarter pounds. A little does go quite a long way. Sold uncleaned/as dug condition (clumps of dirt removed, but roots and clinging small debris/surface dirt may remain). Leeks have a nice little 'skin' you can slip off, though, which takes care of most of the cleaning!
They are sustainably harvested by using a dandelion digger, taking only a few plants per group. They are available only for a limited time and quantity. I will never shovel up huge clumps or pick from any of my dozens of colonies to the point that they look sparse. This is only offered for enjoyment – I don't intend to make a big profit off of it!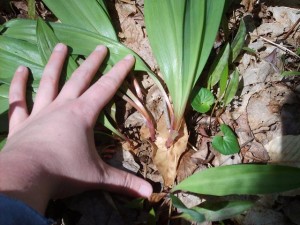 Pick up on farm only. Please contact me with your interest, and I will get back to you as soon as I can. Leeks are picked fresh upon order; no stock is maintained. Sorry, no delivery or shipping.